One of the toughest parts of being a landlord is enforcing the rules and making sure your tenants are doing what they are supposed to be doing. Unfortunately, if tenants are refusing to follow the rules and are constantly failing to pay rent, you may have to evict them. This process can be long and will leave you without a tenant paying rent, but it is often necessary. Even if you have been a landlord for some time, eviction can still be complicated. However, by being informed and keeping communication open with your tenants, the process does not have to be as tough as it can be.
Reasons to evict tenants
You cannot just evict tenants for no reason. You actually have to have a reason for eviction, especially since you are entitled to file a lawsuit. You will lose the lawsuit if your reason for eviction is not valid or if you do not even have a reason Some common reasons include failure to pay rent, violations of the lease, and damages to the property. Other reasons include breaking laws and health and safety hazards. However, the most common reason is a failure to pay rent. In all of these cases, you will need proof of documentation so that the court will be able to see what has happened.
Keep the eviction legal
Each state has their own laws regarding eviction. Make sure you put the laws in the lease so that you and your tenants know what to expect and know how to act. Consider using a lease agreement that was written by lawyers or consult one in the process of writing the lease. That way, you know that your end is legal and that you can be sure your tenants are aware of the legal expectations that are on them.
"Self-help" eviction is illegal in every state. This includes removing the tenant's belongings from the property, physically removing the tenant, changing the locks or locking the tenant out, and shutting off essential utilities. Not only are these methods illegal, but doing any of these can give your tenant the upper hand should you need to go to court.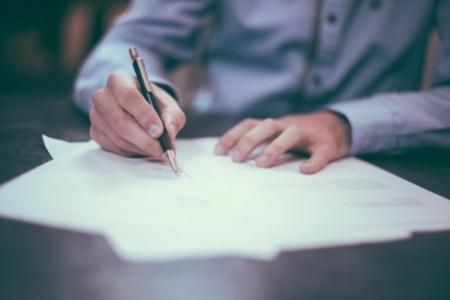 Image: Helloquence via https://unsplash.com/photos/OQMZwNd3ThU
How to avoid eviction on your (the landlord's) end
While you are in charge of your property and need to enforce the rules, evicting tenants can be a difficult process, especially since you will need to spend time finding a new tenant and you will be out of rent money in the meantime. There are things you can do to ensure that you minimize the need for eviction. Make sure everything is spelled out properly in the lease so that your tenants can easily follow the rules and that there are no questions about what the rules say. If a tenant is struggling to pay rent, give them a grace period. This is especially helpful if your tenants are mostly students.
Process for eviction
If you do end up needing to evict a tenant, it may be tempting to just kick them out then and there. However, there is a process you must follow. Make sure you give the tenant plenty of notice. You should get a lawsuit ready so if the tenant refuses to move out, you can specifically file the lawsuit to evict the tenant. Your tenant is entitled to a court hearing if they dispute the eviction, and if they lose the hearing, a sheriff needs to be called in to physically remove the tenant since you are not allowed to physically remove them. Make sure to outline your eviction process in your lease so that the tenant knows what to expect.
Keep communication open
In any relationship, communication is key. This is equally as true with your relationship with your tenants. While it may be tempting to want to be best friends with your tenants, you also have to make sure they are not staying in their apartment for free. Meet with them in a public place such as a coffee shop and have an honest conversation with them. Tell them that you noticed they were having trouble paying rent and see if there is anything you can help with. Make sure you make it clear that they can't live in your apartment for free. Help them work through what they are dealing with, but also be stern in the consequences of them not paying their rent. Again, make sure any rules are outlined in the lease and allow tenants to ask questions they may have about things outlined in the lease.
When approaching your tenant, be "understanding but stern." Let them know that you understand what they are going through, but they need to pay rent or abide by the rules. If you are pleasant and understanding, the tenant will hopefully be more willing to move out on their own without legal action.
Evicting a tenant is tough, especially since you will be out rent money until you find a new tenant. It is difficult to do, even if you have evicted a tenant in the past. Making sure things stay smooth and legal will make the whole process easier for both you and your tenant.